Just one more drink, please.
A downloadable game for Windows
My friend wanted to get Just one more drink and he went to a Bar... then I didn't know what happened...
The game
Just one more drink, Please. is a semi-active ragdoll game where the combat system is a bit strange, but fun! Try to get the best score before getting knocked-out!
Controls (there is an optional small tutorial in the game)

Move with "AWSD".
Use right click button to punch with your right hand, and left click to do it with your left hand.
Keep pressed 'C' to crouch (use it to avoid attacks)
Left shift to run (it consumes stamina)
Middle mouse button + mouse movement to rotate.
Mouse scrollwheel to zoom in/out.
Made in 48 hours for a Game Jam: https://itch.io/jam/gmtk-2020
Download
Click download now to get access to the following files:
JustOneMoreDrinkPleaseV1.0.0_winX86.rar
40 MB
JustOneMoreDrinkPleaseV1.0.0_winX64.rar
43 MB
Comments
Log in with itch.io to leave a comment.
Buenardo me encantó acá les dejo un gameplay XD
Esta bueno el juego, es entretenido y ayuda a pasar el rato, me gustaria cambiarle el color al personaje
tbh i thought the crashing was the game itself until i read the comments
Oh. Couldn't play the game?
i thought it was the game till i went in the games files and fixed it
like a piece of code needed to be switched with another and the start code had a little error no capital letter
Doesn't execute. Windows 64bit. every option I press crashes the game.
That's sad! Could you paste here the crash logs?
I feel bad for not answering you for this long. but finally I got to use the computer where this crashed, and I remembered this.
I get no log report anywhere in any folder. No unity message saying it has crashed and a log report has been written.

Just this after hitting play... no idea what happens. I press play, and then this appears after a couple of seconds. Then the game turns off.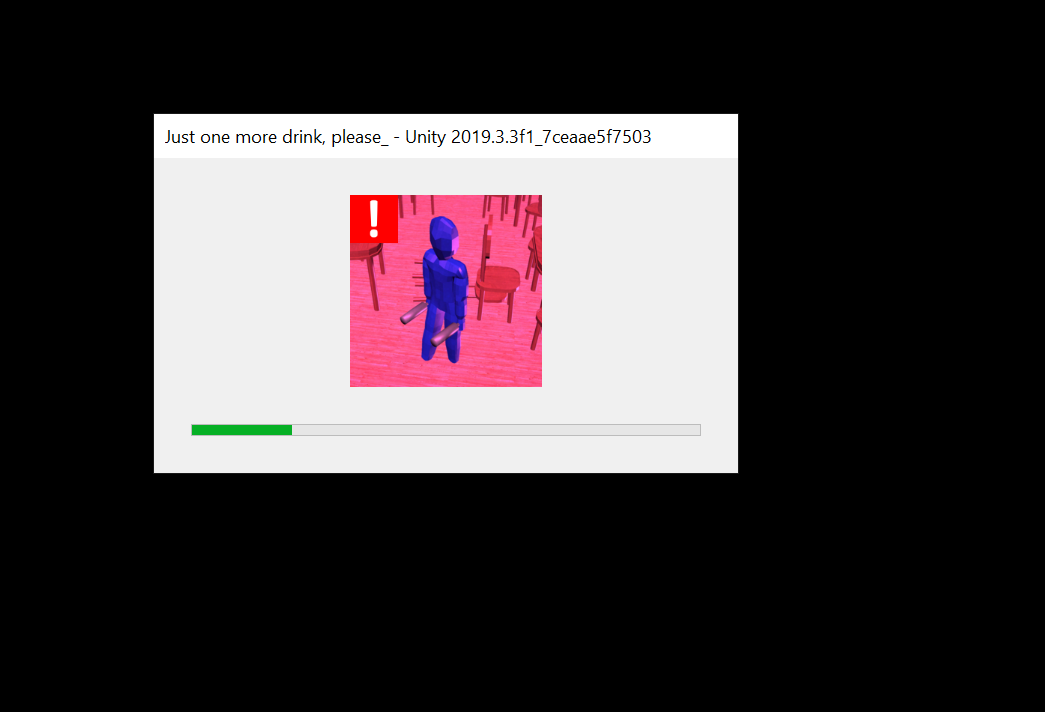 It also happened on a friend's computer but I couldn't find the problem. I can remember it was something related to his old processor.
You can find the logs at C:\Users\<user>\AppData\LocalLow\Rhomita\Just one more drink, please_

You can send me the files to dev@rhomita.com :)
Thanks!
Oh. So they appear in another folder? Sorry about that. I'll do.
Was a super fun playing this and was really entertaining! Was confusing at first but after playing the tutorial and getting the hang of it (through a bug I think (the crouch to avoid damage)) it was fun to run around and hit people. I think that the small glitch where the arm flew past and elongated was pretty funny and added to the game. But yeah, super fun game; you did a really good job on this one!
Thanks for playing! Yeah, it had some bugs but I didn't have time to fix them because I made it in a GameJam in less than 48 hours :D I had a lot of fun making it, so It's nice to know that you had fun playing :D
I had such a blast playing this! I simply couldn't stop laughing haha! After a little bit of practice I can safely say that I pretty much mastered the double-wielding-bottles-tornado-spin move as show in the video. Great job on this one man! ;D
Thanks for playing Andy! I'm glad you had fun! You didn't find the trick of crouching all the time to avoid getting damage from the opponents!